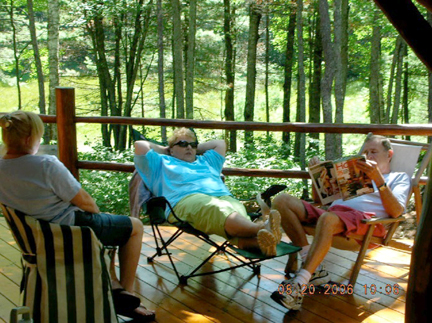 Our Friends-Lazy afternoon in Eagle River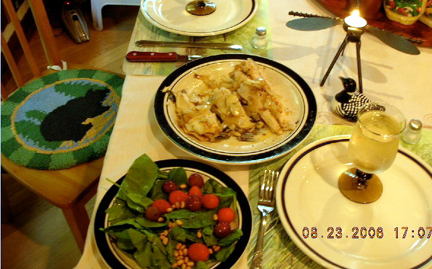 Freshly caught fish/baked (less than 45 min. old)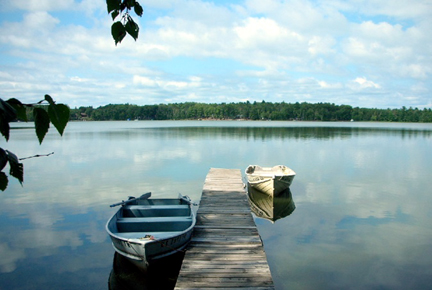 Our Pier at Little St. Germain Lake

Today, I'm sharing some pictures of our Eagle River log home & Little St. Germain Lake, St. Germain, where we also have a rental cabin called 'Tamarack'.
We've had such a lovely time for nearly a month 'Up North' . . . a true spot of leisure and fun, although we did some sprucing up in the meantime; painting our deck and putting new gravel on our drive way. All turned out nicely.
We enjoyed quite a few visitors during our 4-week's stay. One of our visiting friends took the time to create a song-book . . .
Kathleen's favorite tunes from the 70s & 80s. One evening, all six of us sang our hearts out by the fire; and then, my husband Roger closed out the evening with his unique fire works! Gratefully, our neighbors were kind about our singing; I told some neighbors ahead of time that we would sing and have fireworks one of those evenings.
During the end of our vacation, we had a surprise visit from Milwaukee, Ben and Bev. Ben wanted to drop off his bird house which he had created for us. It is the most beautiful bird house. When they hadn't even left the driveway, the birds were already checking out their new feeding grounds.
Roger and I have come to realize, friends are
a wonderful gift, and nature brings out
the best in us.
___
P.S. Information-sharing from the Northwoods:
One of the Eagle River restaurants had a great idea... i.e., I had forgotten my reading glasses, and so, the waitress came with a big tray of glasses. All sorts of reading glass with different reading strengths... voila, what a great idea . . . it certainly helped me reading the menu that evening! Pass on this great idea!!!!
Thanks to W. Byrne of Chicago for contributing these wonderful memories and photos. For more photos from W. Byrne, please check out the Caughtintime photomessageboard.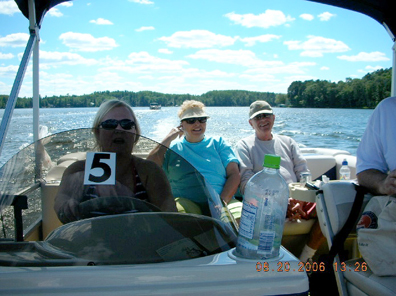 Captain Ellie, Kathy & John
'UP NORTH' where Life begins!!