Lovely stories about special times!




A combination of vintage resort ads,
collectables and stories.
---
Beaver Dam Links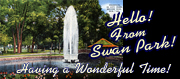 What's so special about Beaver Dam, anyway?

Help! We need your great stories to get
this magazine started!
(If you read the "About Us" section, please forgive me for repeating part of it--it's just that it described our intentions so succinctly that I didn't want to rephrase it.)

This magazine will feature free reminders that the human spirit can be and usually is basically good. The idea for the magazine came to me after being constantly assaulted with bad news on all media and constant sales pitches. While I do realize (and never mean to trivialize) the seriousness of the world we live in today, I am just trying to remind people that we need to remember the goodness that exists too.... Maintaining that balance today may be the biggest challenge that faces us all --- but I feel it's incredibly important in order to properly cope with and respond to today's ongoing and sometimes scary struggles.

Sending In Your Story -
Please feel free to contribute your TRUE stories of faith, hope, love and fun. Basically, your best memories. This magazine will only work if it's a community effort. We accept and post stories that fit our criteria (please keep them positive)* -- and please keep them as short as possible. We will put your name on them and the city / state you are from if you provide that--or you can choose to be anonymous (by not including a name or by signing off as "anonymous"). We will try to post all submissions (if possible) and also try to keep them up for around 1 month.We will change holiday categories to feature upcoming holidays but the Wisconsin category will remain always. We reserve the right to repost or reproduce these stories at a later date. *Please note that we offer no monetary compensation for these stories at this time. Email us with your story today at: tomcat7918@sbcglobal.net
If you think this is a good idea, please tell a friend!
*We reserve the right to not post any story that does not fit our criteria.
**Caught in Time cannot guarantee that each story is true and solely relies on it's contributor's honor that what they have submitted really happened.
TOP